Use our thorough list of shaft coupling manufacturers and suppliers in Delaware to examine and sort top shaft coupling manufacturers with previews of ads and detailed descriptions of each product. Any shaft coupling manufacturers can provide shaft coupling products and services to meet your companies specific qualifications. An easy connection to reach shaft coupling manufacturers through our fast request for quote form is provided as well. This source is right for you whether it's for speed reducers, motor couplings, jaw coupling or any other coupling needs.
Companies Serving Near Delaware
Middlebury, CT
|
800-243-6125
PIC Design offers a wide range of products, including couplings. Our couplings are bellow coupling, flexible coupling, universal lateral coupling, multi-jaw coupling, miniature Oldham coupling, wafer spring coupling, precision universal joint shaft coupling, k-coupling and much more.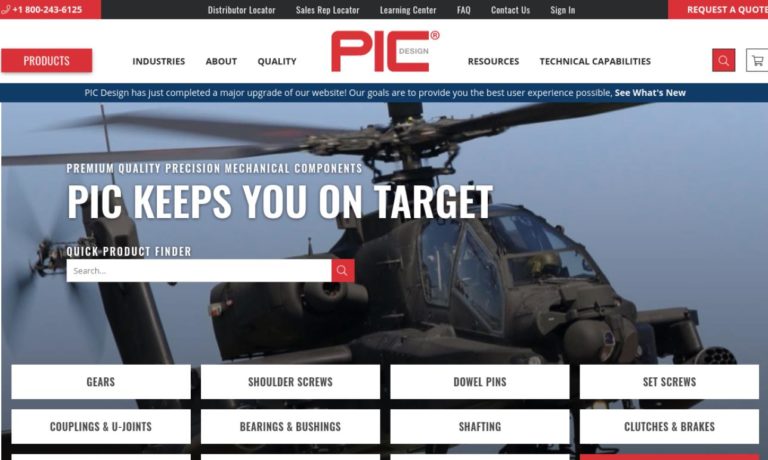 $$$
Cary, NC
|
877-275-5673
LORD Corporation is a worldwide supplier of vibration control systems, vibration isolators and bumpers, vibration isolating systems plus a large machinery mount line. For more than 75 years, we have been a world leader in vibration, shock, motion and noise control. LORD Dynaflex® flexible couplings and bushing-type couplings provide vibration isolation, torsional shock protection, and more.
$$$
Belmont, NC
|
704-394-0322
Manufacturing shaft couplings for more than 80 years, Ramsey Products Corporations is a leading supplier for industries. Products we offer include, flexible couplings, flexible shaft couplings, drive shafts, & gear couplings. All our products are backed by our commitment to exceptional customer service & support. We want to be your most outstanding supplier & welcome the opportunity to serve you.
$$$