Use our thorough list of shaft coupling manufacturers and suppliers in Connecticut to examine and sort top shaft coupling manufacturers with previews of ads and detailed descriptions of each product. Any shaft coupling manufacturers can provide shaft coupling products and services to meet your companies specific qualifications. An easy connection to reach shaft coupling manufacturers through our fast request for quote form is provided as well. This source is right for you whether it's for speed reducers, motor couplings, jaw coupling or any other coupling needs.
Winsted, CT
|
800-545-7301
Custom orders are the norm for us. We manufacture shaft couplings and shaft collars — jaw couplings; set collars; single and double split collars and threaded collars. These shaft couplings and collars are made in aluminum, steel (cold rolled or stainless) and nickel. They can also be nonmagnetic or metric.
$$$
Hartford, CT
|
800-465-1384
Newman Tools is a supplier of top quality cutting tools, measuring tools, abrasives, screw thread inserts and pneumatic specialties. Since 1955 we have prided ourselves on offering a wide selection of tools and supplies while offering helpful and knowledgeable customer service. As distributors for many machine shops, plant engineers and maintenance divisions, we maintain a full stock.
$$$
Middlebury, CT
|
800-243-6125
PIC Design offers a wide range of products, including couplings. Our couplings are bellow coupling, flexible coupling, universal lateral coupling, multi-jaw coupling, miniature Oldham coupling, wafer spring coupling, precision universal joint shaft coupling, k-coupling and much more.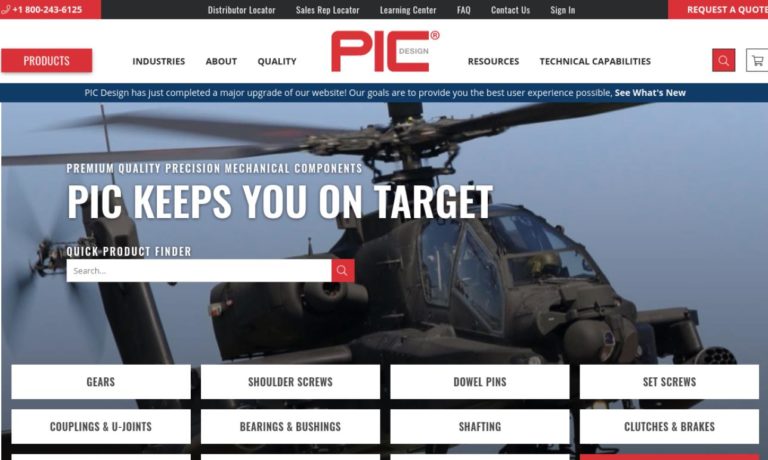 $$$
Companies Serving Near Connecticut